The History Of The Nic(k) Collins Cup
by Nic Collins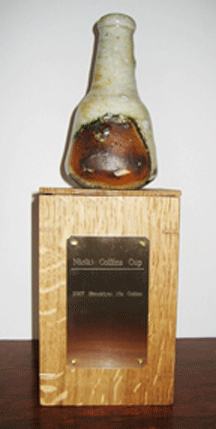 I am not the only experimental music composer named Nicolas Collins, more-or-less: in Britain there lives one Nicholas (with an "h") Collins, whose name and musical interests are close enough to mine as to cause some confusion within our small community. This is the story of our entanglement.
My first inkling of a challenge to the musical exclusivity of my name came in the spring of 2001. I had applied to the ICMC (International Computer Music Conference) in Cuba that year to present a duo performance with my long-time collaborator Peter Cusack. I received an acceptance, but for a Cello Suite that, to the best of my knowledge, I had never written. When I emailed them for clarification I was told they had made a mistake and my invitation was rescinded. At the time I put this down to typical conference programming confusion, exacerbated by some clichéd Latin organizational quirks.
A few months later Shawn Decker, a colleague at SAIC, collared me with a question: he had been invited to present an audio installation at the Maxis Festival/Symposium in Sheffield and saw that I had a paper and performance on the program -- in my opinion, was it worth his attending, since his invitation did not extend to airfare? Hmm, I answered; the paper and concert title looked like something I might have produced, but I had no recollection of agreeing to participate in the festival (which featured no less that three Collinses), much less having written the paper.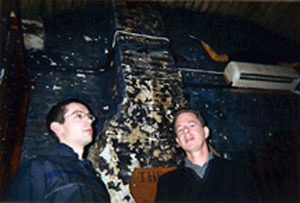 My curiosity piqued, I did some Google-sleuthing and discovered that my most likely Doppleganger was a British composer 21 years my junior. The biography page on his web site consisted of a single sentence: "Nick Collins is not the Editor In Chief of Leonardo Music Journal." I picked up the gauntlet where it had been thrown and -- following a face-to-face meeting at the 12 Bar Club (housed in what is reputed to be London's oldest pub) -- invited him to write an article for said journal, which appeared in the 2003 volume.
His paper, his "BBCut" software application (see the paragraph on "Computational Beat Tracking" here, and the CDR of his music that he kindly sent me all pointed to an interest in computer-assisted DJ-style cross-cutting that was spookily reminiscent of my own obsessions when I was about his age, two decades earlier (see Is She/He Really Going Out With Him/Her/Them, 1982 on my first LP for Lovely Music, Going Out With Slow Smoke.) The main ideological difference between our work was that Nick was firmly committed to software (proudly claiming never to have held a soldering iron), whereas although I had been programming personal computers for music since 1977, I had always mixed up hardware and software, and -- having just begin teaching classes in "Hardware Hacking" at my school -- was beginning to get a reputation as a "hardware guy".
A few years later (2005), in exchange for his LMJ piece, Nick asked me to write a chapter on "Live Electronic Music" for the Cambridge Companion to Electronic Music he was editing with Julio d'Escrivan (who, ironically, had attended my first workshop in hardware hacking in Bristol in 2004.)
I assumed that now the debt had been cleared, but in 2007 Nick invited me to join him on stage at the NIME conference in New York:
"Would you like to take part in a duet or duel against/with me? It could be billed as real (you) versus/complementing imaginary (me) and in various ways bring in all those entertaining hang-ups about physical gesture versus code etc. And it might be fun for an evening club set rather than any concert presentation."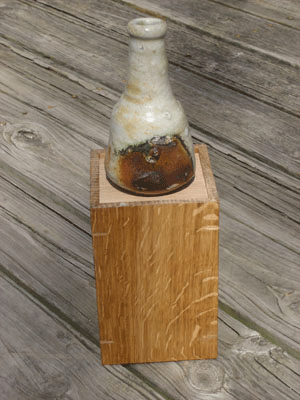 The event was billed as a battle of live coding versus live circuit building. Nick took the liberty of contacting the Devon potter Nic Collins, who kindly donated a small vase in a beautiful wooden presentation box that became the official "Nic(k) Collins Cup."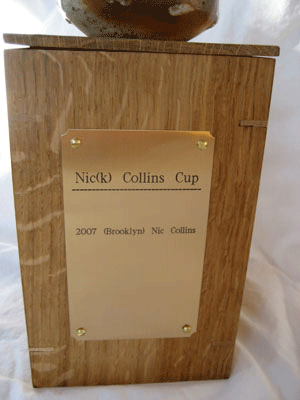 Ballots were printed at my suggestion -- let the People decide, I reasoned. We took the stage at Galapagos in Williamsburg at 3AM on June 10 (sound check earlier in the evening forced my family to postpone my son's 17th birthday by 24 hours.) Nick warned me that he "fought dirty" and was planning to embed video clips by the gay porn star Nic Collins. I compensated by using a hammer to help extract a tape head from an old boombox, and closed my performance with a piezo disc amplifying the sound of a sparkler. You can see an excerpt from the battle on YouTube. Whether it was the power of fireworks over porn, the inadequacy of the video projection that Nick depended on to display his coding, or the home-field advantage, I won by audience vote and carried home the Cup to display on my mantle.
Suffering from an odd mix of triumph and guilt, I asked Nick to curate the CD for LMJ 18 (2008), for which he assembled a masterful collection of work by younger artists in the field of live coding and "Laptronica."
The cup-ness of the contest seemed to demand rematches on a regular basis (like the America's Cup, the Ryder Cup, etc.) On January 16, 2009 we met under the auspices of a concert by the Resonance Radio Orchestra at the Gasworks Gallery in Vauxhall, London, across the street from the legendary Oval, home of English cricket.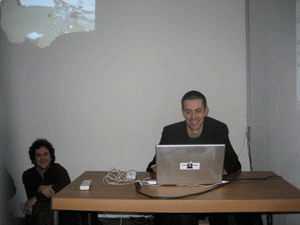 This was my first stop on a short European tour. I sincerely hoped that the proximity of the sacred Oval, coupled with general Queen and Country sentiments, would inspire Nick to capture the title and free my luggage of the charming but bulky Cup. No fireworks this time, just a birthday candle, but once again I won by the vote of an audience that was somewhat of a home crowd for me, despite the obvious differences in our spellings of gaol/jail.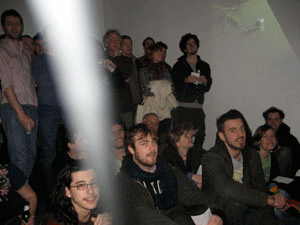 The Cup went back into my suitcase and on to France, alas.
After two sequential defeats I fear the allure of the competition he first proposed back in 2007 has faded for Nick. Recent match-ups in Mexico City (site of many a dubious boxing rematch) and New York were held as "friendlies", with the Cup not in contention. I for one am keen to transform the contest into a team event, where groups of coders face off against massed hardware hackers, rather than limiting it to Nick vs. Nic. Stay tuned.